Two Cameras
I recently inherited two cameras from my maternal grandparents. One was my grandmother's, the other my grandfather's. Both of them are fascinating as objects in their own right, but I also find them interesting for what they say about my grandparents.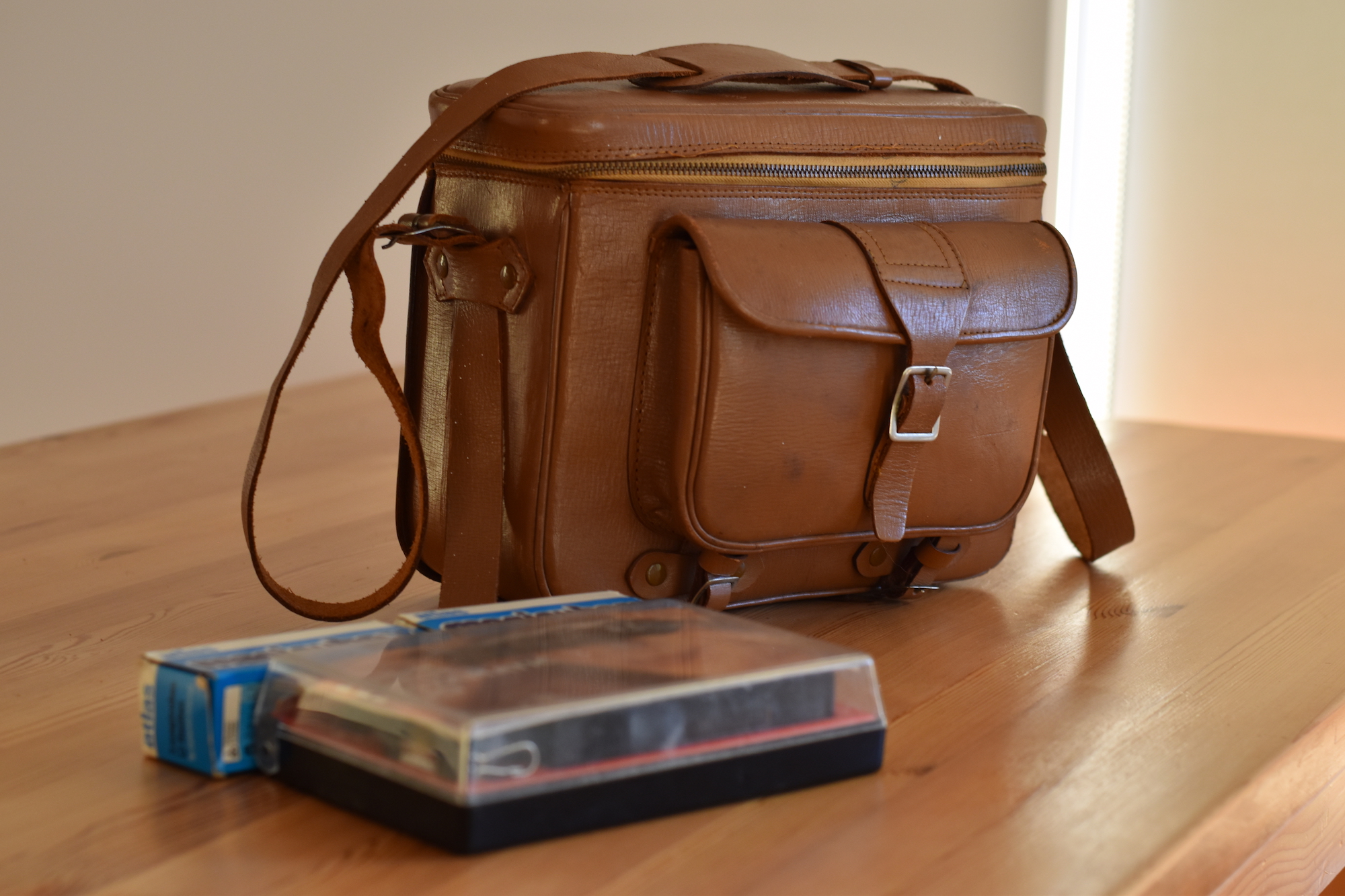 You might be able to tell from the picture what the first camera is, but I've kept the second wrapped up in its lovely vintage leather bag.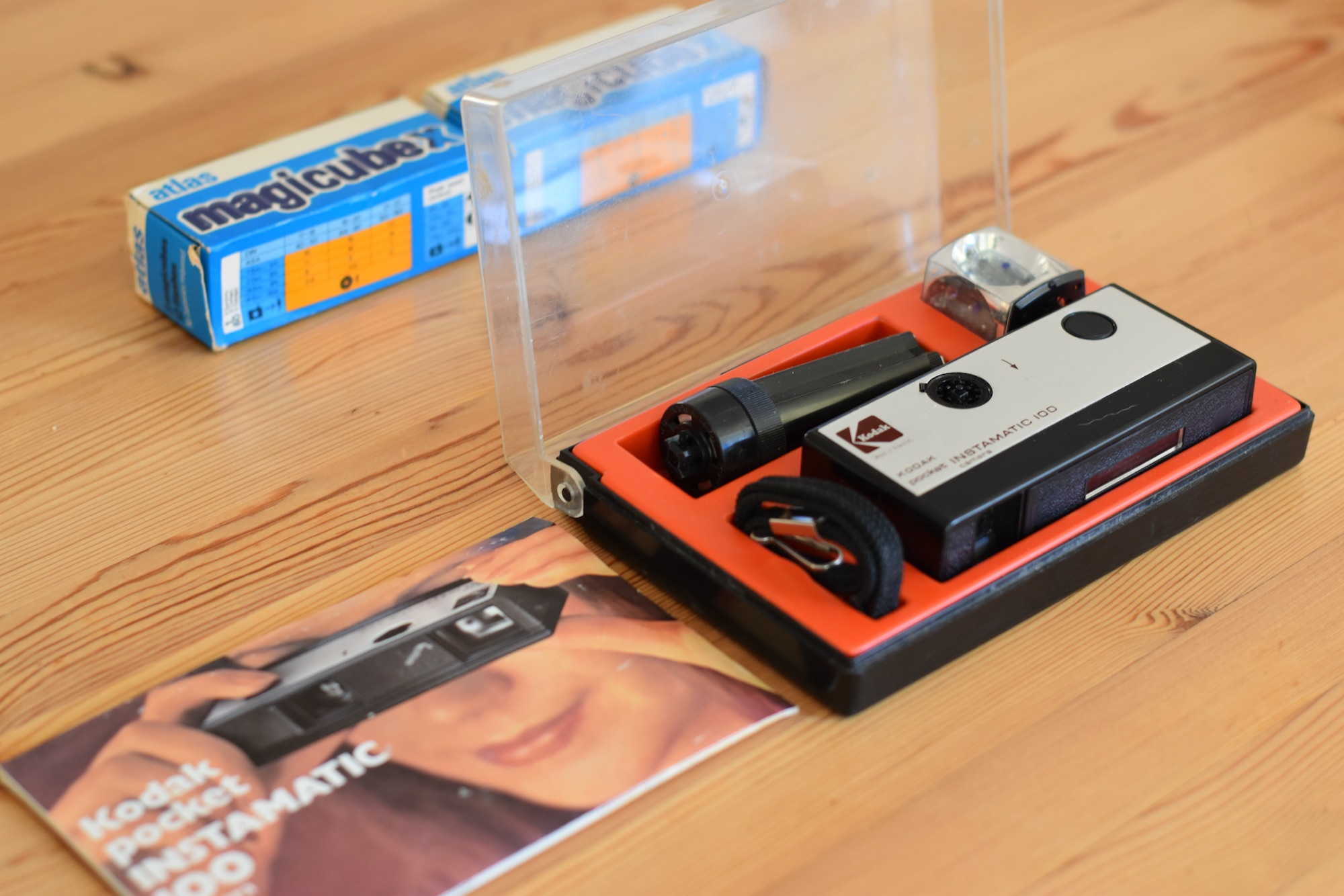 Starting at the front, it's a Kodak Instamatic Pocket 100, which was Grandma's camera. It was probably the best camera you could get for her, although evidence would suggest she only used one roll of film before putting the camera away and never using it again. I guess Grandma wasn't really into photography, even though the Instamatic Pocket was the camera for people who didn't like cameras.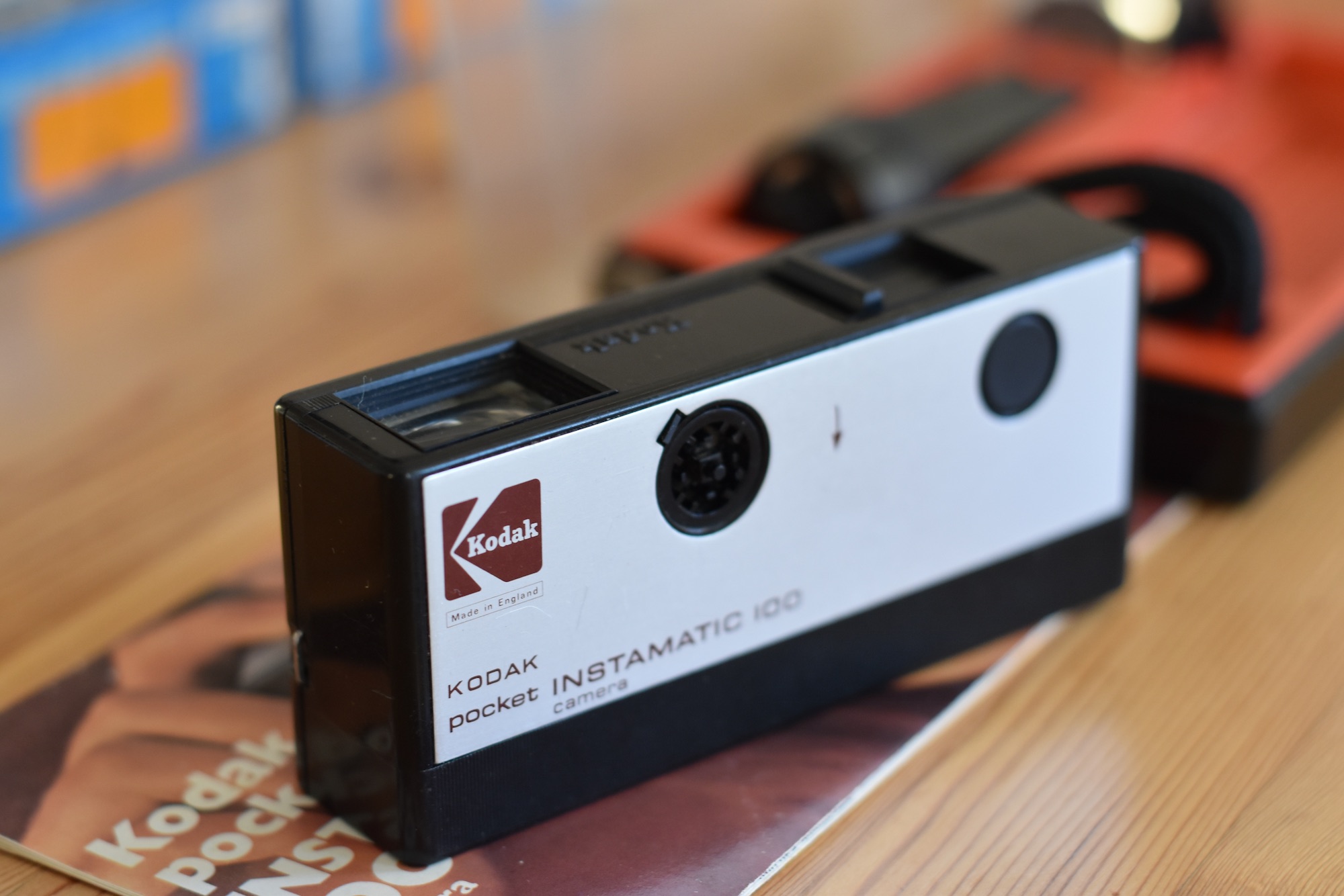 Can you see any wheel or controls at all? There's one button on the top for the shutter. You do have to remember to open the lens cover, but everything else is preset. The little cassettes of 110 film even had a window where you could see how many frames you had left in the roll. It has a viewfinder to the left, which is going to have terrible parallax issues, but who cares! This is a camera for family snaps in the garden.
The camera comes with instructions, but they're really just how to open the film door. It's a single sheet in six languages. If you don't want to read a manual (and Grandma never did) then this is the camera for you.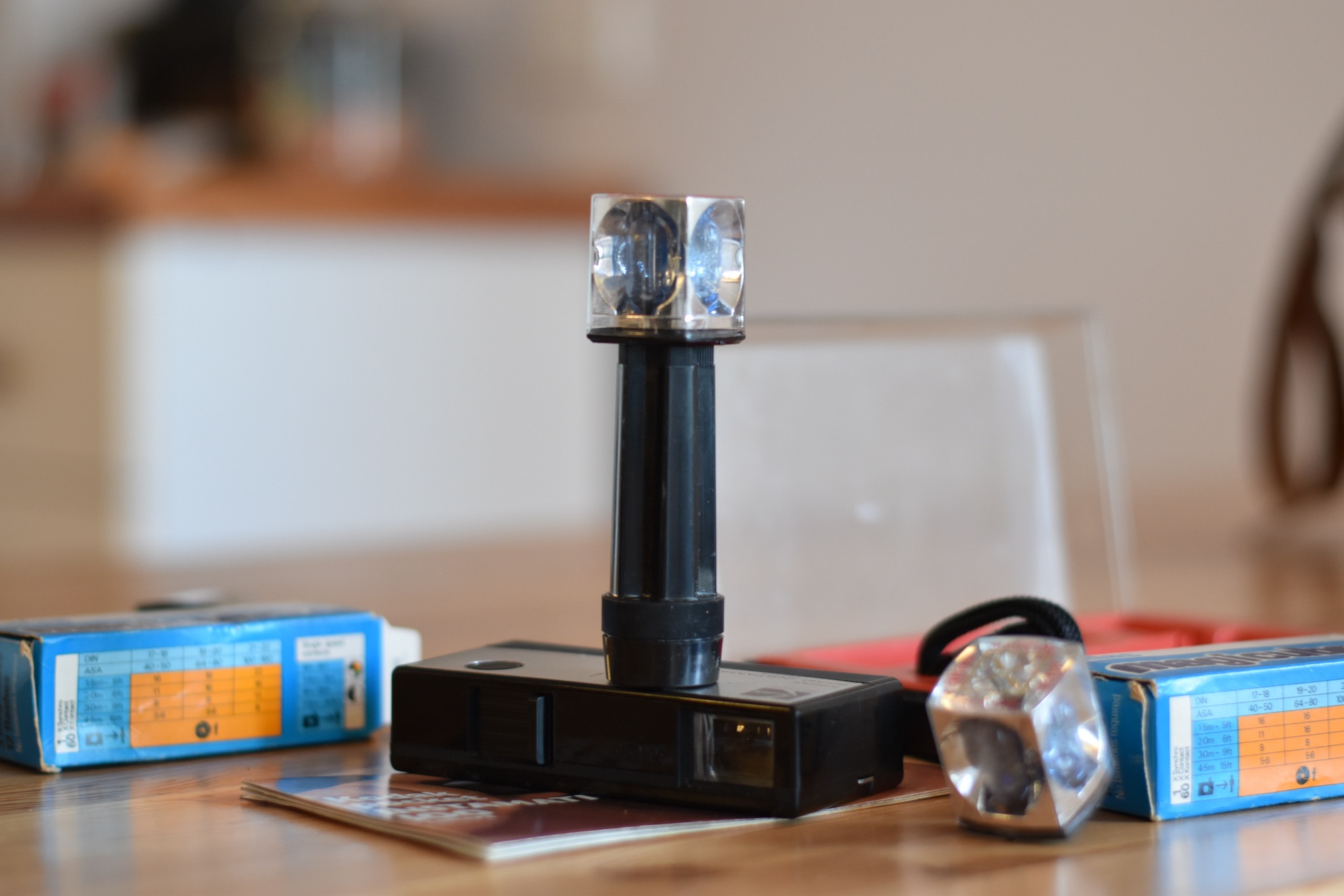 It also used these cute magicubes, which are pretty sweet until you realise all the safety warnings are because they're a tiny explosion. Science! One came packaged with the camera, and I also received two boxes of flashes, in total 6 although at least one has been used.
There's also this ridiculous "red eye reduction" solution of a plastic tower to put the flash cube on. I guess if the subject were close it would move the light out of the plane of the lens so you'd get less reflection on the subject's retinas? I don't want to stand that close to a magicube when it goes off.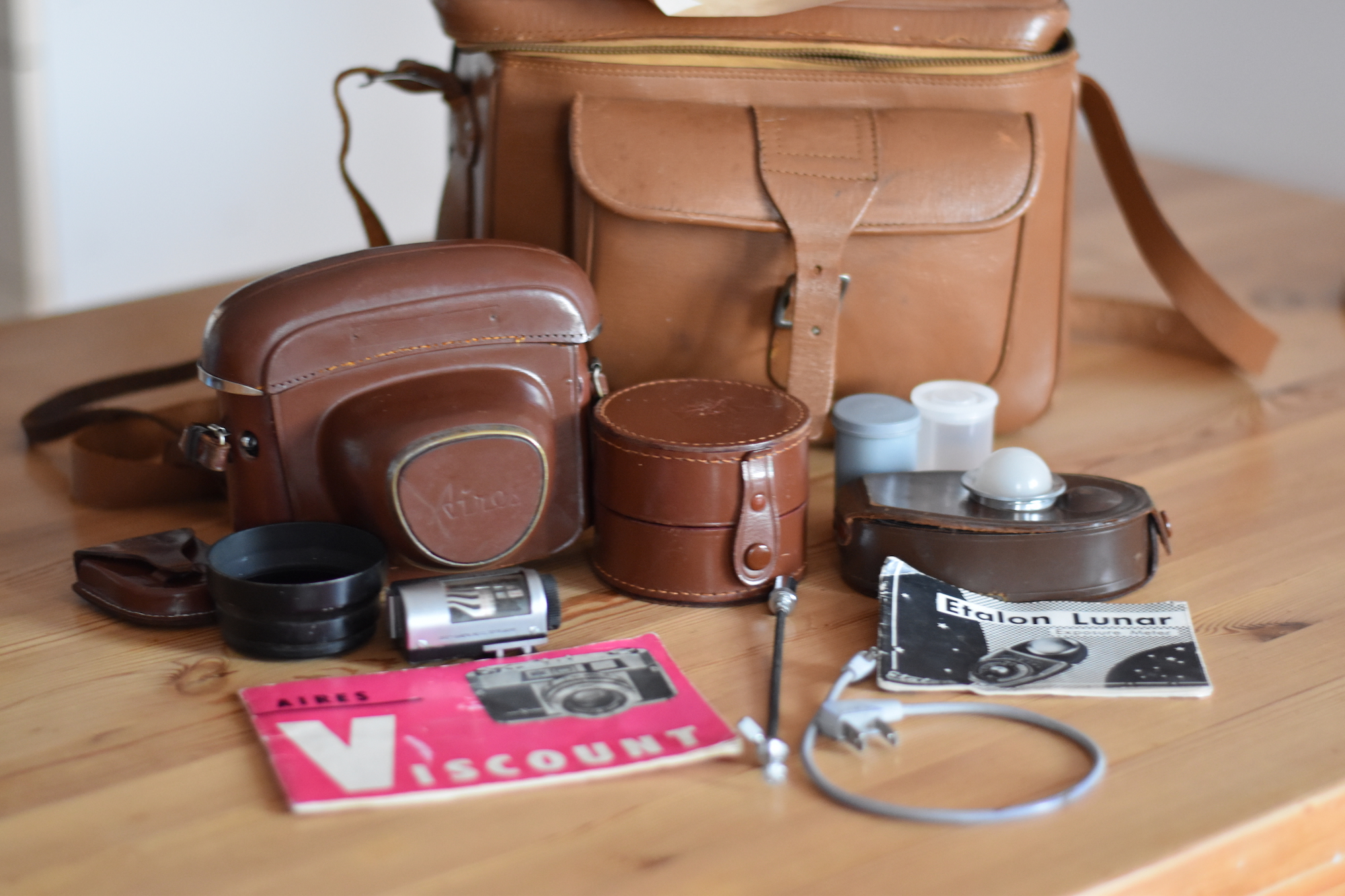 This is perfect fodder for my vintage love. This darling is an Aires Viscount and comes with a leather half case and leather front cover with chrome accents both of which are lined with orange velvet. The telephoto lens attachement also comes in a leather box lined with orange velvet. Did I mention the camera bag is lined with purple velvet? My modern camera came in a cardboard box, with the bits wrapped in little plastic bags.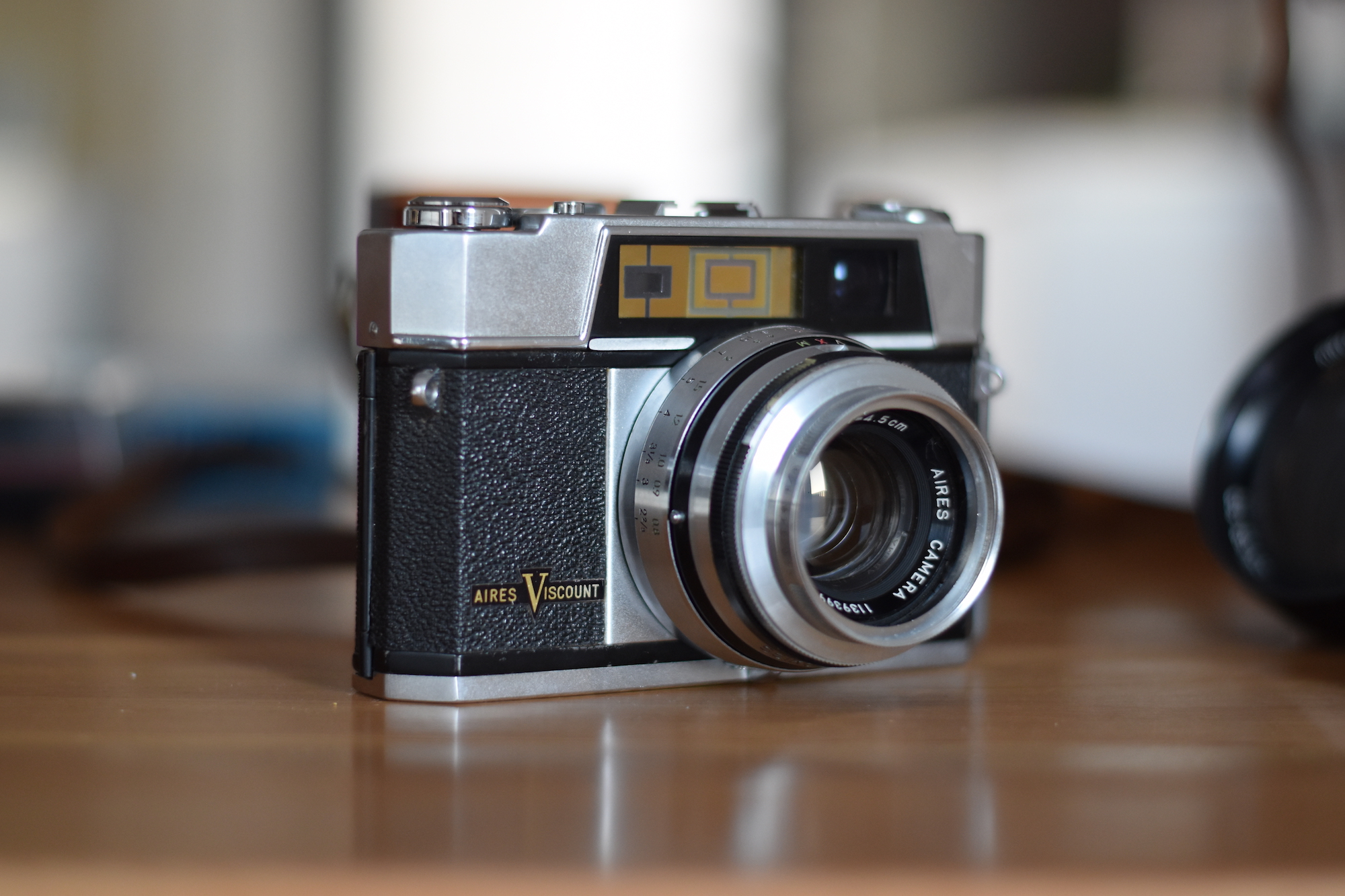 So after having a small meltdown when my husband pulled this out of the cupboard I actually looked at the camera. And held it. This thing is massive. With no case, no attachments, no film, it weighs a cool 813g. With my 50mm lens on, my modern Nikon weighs 650g. But this is built like a tank. Everything has a very satisfying click to it. It's fully mechanical, and the rangefinder focusing still works.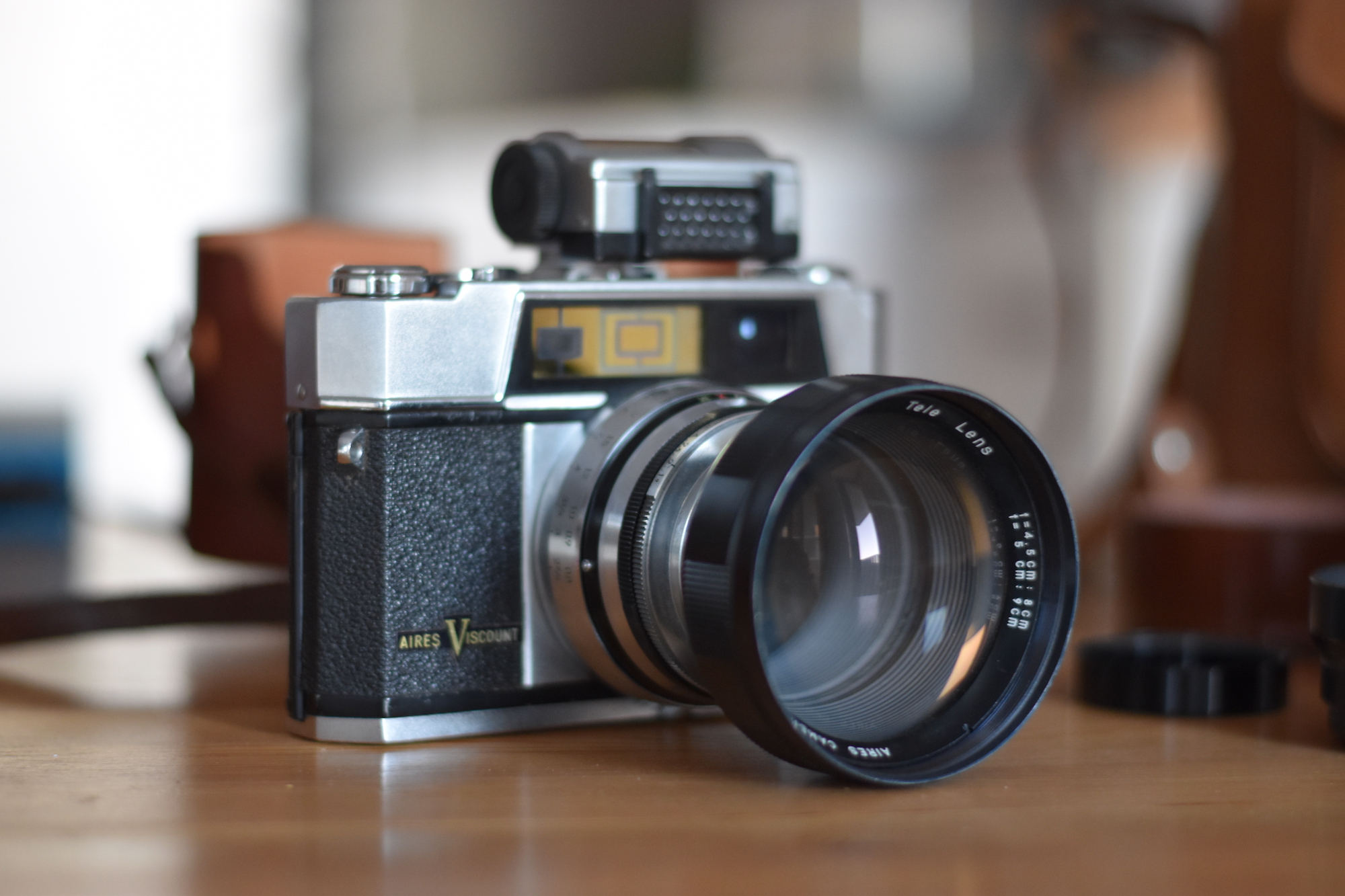 The camera doesn't have a built-in light meter of any kind. Aparently selenium light meters decay over time with exposure to light, so this might be a good thing. The camera came with two meters, both of which seem to work. The Aires one that attaches to the camera hotshoe is missing its front cover so doesn't work in very bright light any more. The handheld light meter is a different brand, but works just fine.
The telephoto lens attachement is very heavy and kind of crazy. It's got quite a curve to it, I wonder how much that distorts the images.
Grandpa would have bought this camera when he visited Japan in the early sixties. He used it I think until the late 80s. My mum can remember him using it on holidays, but Grandpa must not have used it much once the children left home as Dad doesn't remember it. There's certainly plenty of evidence, in film negatives and slides.
I really like both of these cameras. You might think my gushing over the vintage chic means I like the Aires more, but they are actually both great cameras for different audiences. I think it's great that both of them exist. The Kodak's role has been subsumed by smartphones, and even the Aires has been to some extent. Some day I'd like to get some film and try them. Although Kodak has stopped making 110 film, Lomography makes it and a couple of places in Australia will still process it. Of course 35mm film is still available, although the price of film and development for even basic 35mm photography is a bit high. I probably won't be using either any time soon, as my Fujifilm Instax camera is cheaper to use per shot.
I might evict the Aires from the bag and put my Nikon in it. Seems a waste to keep such a lovely bag in the cupboard.
---